Written by: Ian Chandler, Freelance Writer and Marketing Expert
Many of Google's tools are invaluable for small business owners. Google My Business is especially useful, but perhaps the most popular Google tool is G Suite. G Suite is virtually a household name in the business world. Even if you don't use the full G Suite, you probably already use Gmail, Google Docs, or one of the many services included in the full suite. But if you're not already using the entire G Suite, you absolutely need to consider it.
In this article, you'll learn all about what G Suite is, how to get started with it, and how it can help your small business.
What is G Suite?
Simply put, G Suite is Google's collection of collaboration and productivity tools. Google breaks up the suite into four main sections that each have different programs associated with them:
Connect: Gmail, Calendar, Google+, Hangouts Chat, Hangouts Meet
Create: Docs, Sheets, Forms, Slides, Sites, App Maker, Keep, Jamboard
Access: Drive, Cloud Search
Control: Admin, Vault, Mobile
You can read more about each tool on the official G Suite page. But for now, all you need to know is that G Suite encompasses a range of programs that help you run your business better.
It doesn't stop there, either––there are business-specific benefits that G Suite provides. You'll get the ability to send email from your business web address, so you'll be able to email from hello@yourcompany.com instead of using yourcompany@gmail.com. It sounds like a minor change, but it can help you show your audience that you're a professional team, not just someone doing this as a side project. You'll also get a whopping 30GB of cloud storage, 24/7 live support, advanced admin controls, mobile device management, and easy data migration.
How Does G Suite Improve My Business?
Enough about the tech specs. Here are 3 concrete ways G Suite can help you enhance your day-to-day operations.
G Suite simplifies and optimizes your workflow
Think about your current business workflow. What does your typical day consist of? If you're like most small business owners, you likely spend a lot of your time emailing, communicating with your team, scheduling, and maybe even performing some more involved tasks like making spreadsheets or managing data.
One of the central benefits of G Suite is that it organizes all of those tasks into one unified framework. This can help you build a seamless workflow where everything works perfectly with everything else, and you can access it from any computer that has Internet access.
If you're using tools from a bunch of different brands, you know how much friction there can be when trying to move between tools. With G Suite, everything is designed to cooperate. That means you can easily share files, transfer data, and involve your team across the board.
Collaborate better with G Suite
Speaking of involving your team, let's talk about how great collaboration is with G Suite. Many existing collaboration and productivity solutions are standalone, so you can easily find yourself using several websites that don't work together.
Since G Suite connects everything, collaboration is a breeze. For example, you can tag someone in a Google Doc and have a conversation about it on Hangouts. Google Drive is arguably the best collaborative feature––it helps you manage all of your miscellaneous documents using one interface. You can quickly create handy folders, and you can even decide who can see what, making team management incredibly easy.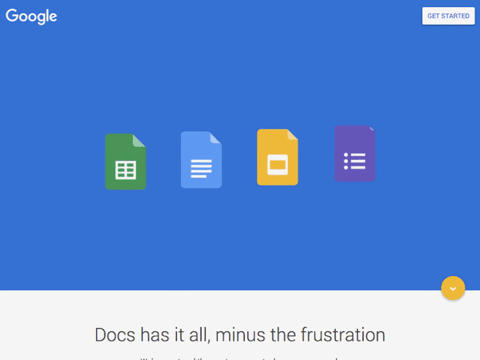 G Suite doesn't require you to be insanely tech-savvy
G Suite is all about removing pain points and making things easy. That means you don't have to be a tech whiz to use it. The highly visual interfaces are simple to browse and get used to, and file management is straightforward. No matter your level of experience, you can use G Suite to improve your business and create a better workflow. If you can send an email, you can use G Suite.
Even though it's simple, G Suite can help you look more like a professional and less like a hobbyist. If you're looking to take your small business to the next level, then you owe it to yourself to see what G Suite can do for you.
Sign up with this link https://goo.gl/KYBSm8 to get a free 14-day trial, and message me to get an exclusive discount when you try G Suite for your business.
We can do it for you
Give us a call to start a
free trial
to see what G Suite can do for you, your productivity, and your business. We'll get everything set up for you, so you can stay focused on building your brand.